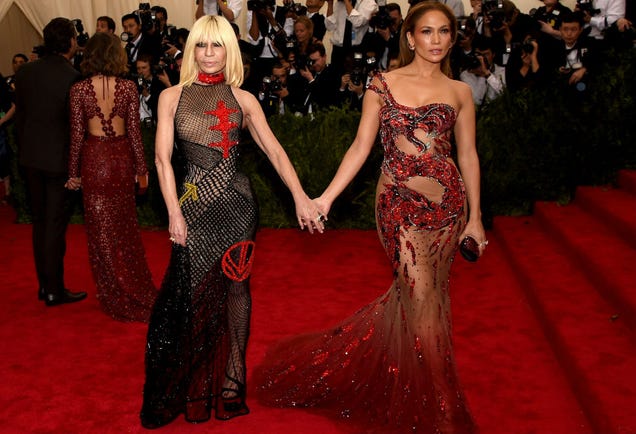 "China: Through the Looking Glass"— was this years Gala Theme. A "fashion Super Bowl" would be another way to put it.
However, many of them were kind of boring! And some people were simply trying to evade the "China" theme. What is going on? Donatella Versace and Jennifer Lopez, above, don't seem to totally know, except for the coordinated exposition of limbs, and the vague implications dragon in red, covering the netherparts. From there? Let's take a look.
Alicia Keys and Maggie Gyllenhaal both went for it on neutrality.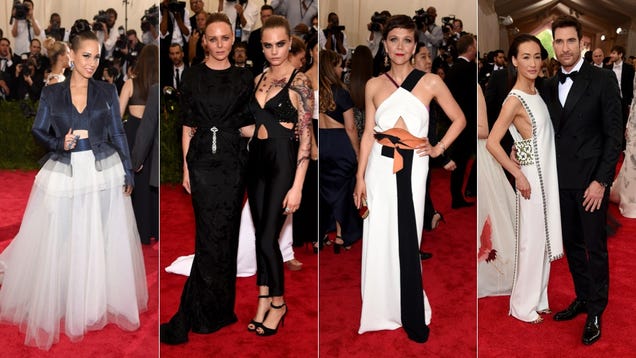 Stella McCartney has been the patron saint of this year's pantsuits. With supermodel Cara Delevingne, she has matched her inky eye make-up with her creations, gone ham on flash tattoos, and probably had the best time whilst doing so. With Maggie Q, a pantsuit aficionado with her fiance Dylan McDermott, they're all sleek and prioritizing comfort which, same.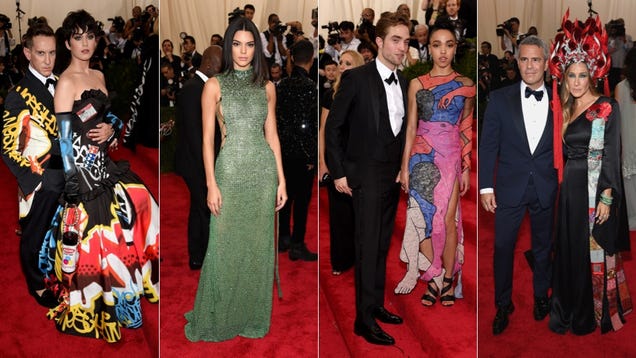 1
At left, Jeremy Scott and Katy Perry wear Scott's newest designs for Moschino, fall 2015.  Kendall Jenner is in Calvin Klein, whose minimalism is often delectable, but here is lacking in adventure. It's a good shade on her. It's fine.
I love that Robert Pattinson is wearing coattails, but moreso I love FKA Twigs's gown from Christopher Kane's Fall 2015 line. You can Google it and discover that yes it is a dick on her dress—shocking!—but more importantly it looks like she has four legs. Sarah Jessica Parkeris doing too much—a vague gesture to flames and maybe Chinese New Year and, possibly, Cinco de Mayo.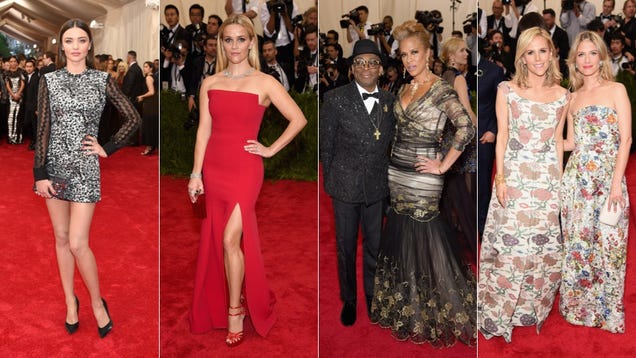 Miranda Kerr, Reese Witherspoon, Spike Lee and Tonya Lewis Lee.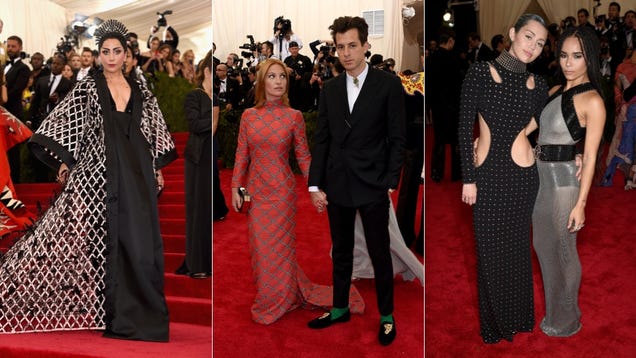 Lady Gaga's eyebrows need to fall back. The lattice pattern on her gown—kimono-and-hanfu-esque, what it is—are an echo of that of Josephine de la Baume's mock turtleneck look. Shout to Mark Ronson's green socks and driving loafters. Miley Cyrus and Zoë Kravitz decided to show up in contrasting gunmetal, twinsies to the end. (Actually: had no real clue they were friends.)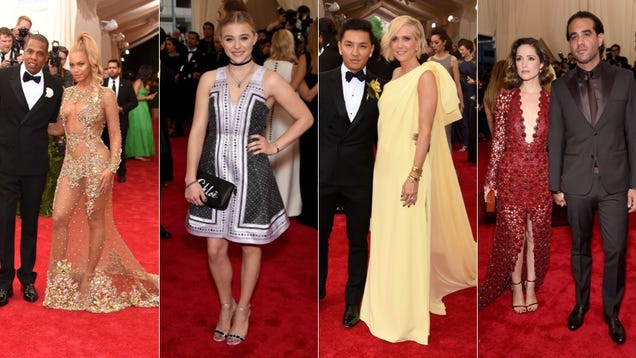 Hello Ser Jay-Z and Lady Beyoncé, your grace, looking like the ambassadors between House Lannister and House Targaryen.  Chloë Grace Moretz, in Coach, Kristen Wiig, with designer Prabal Gurung, in a swathe of buttercream to offset the light marsala of Rose Byrne's lace number. P.S., Bobby Cannavale.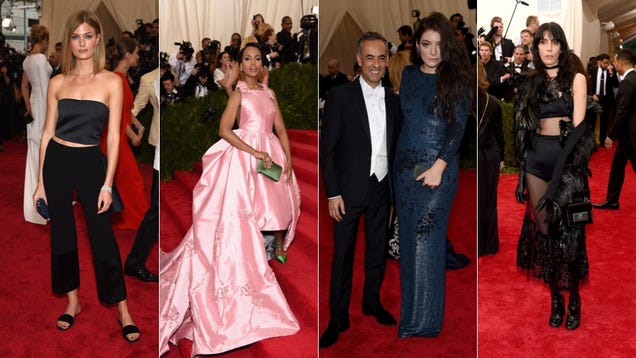 Whatever you think about model Constance Jablonski's look, you have got to give it up for her dedication to comfort, and the pool party she is no doubt attending later. Kerry Washington is not going to the same place, but she is definitely dedicated to her princesshood —the Prada pink and green is so perfect.  Alternately, Lorde and Francisco Costaare clinging to professional and sleek midnight hues year-round—it is elegant, but they haven't quite found the balance of Lou Doillon, who is full red carpet, '90s gothic, beachside dance audition, in a way that has been heretofore unseen.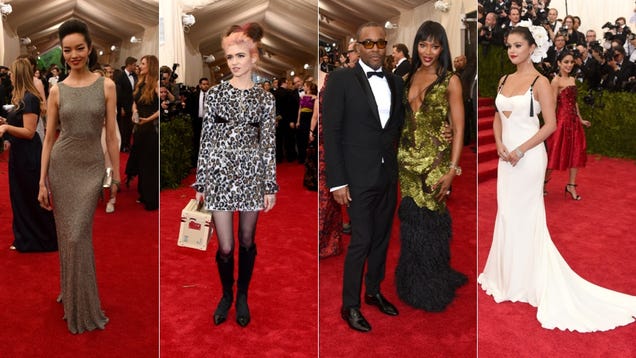 Fei Fei Sun basically found the most perfectly fitting, bronze patina, easy-wearing gown she could find? I hope she is wearing comfortable shoes beneath. Grimes always has her own steez—Chanel, usually—but the main thing about this ensemble is that I wonder where she will set her box purse once she sits at a table. Will she hide it beneath the table, or carry it around to complete the ensemble and then stash it underneath a pile of coats onstage while she watches the band? Why, though. Naomi Campbell and Lee Daniels have nothing to babysit, because that is how one must roll in Burberry; handmade, hand-feathered, please do not snag this shit.Selena Gomez, in Vera Wang, is certainly not trying to hold anything for anyone. All-white train, all-white flower crown, do not disturb.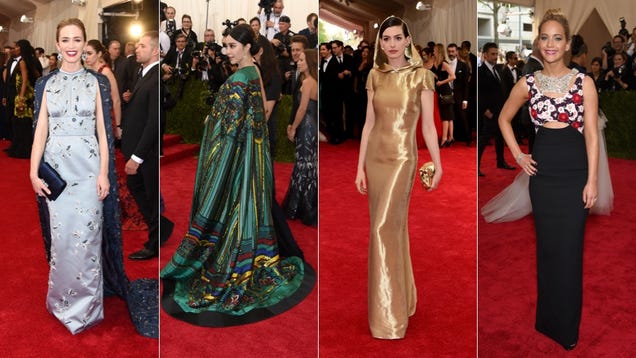 Emily Blunt! I don't know, embroidery is cool but Fan Bingbing essentially stunted on everyone at this gala, minus Rihanna (goddamn!), with this gorgeous silk cape, covering a stunning gold gown that makes Anne Hathaway's quasi-stunner (what's with the hood?) seem like weekend material. There's also Jennifer Lawrence, in Dior. It's pretty, but hopefully that's a break-away skirt so she can dance later.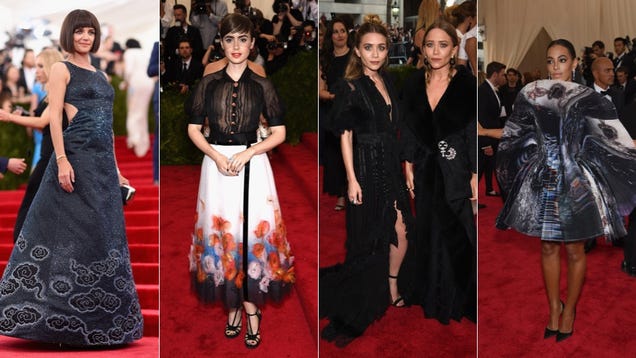 Katie Holmes! Katie Holmes…. Lily Collins is in good contrast—the florals on her skirt are lovely—but it's just not computing. Nor Mary Kate Olsen nor Ashley Kate Olsen, whose fashion lines are consistently stunning if not pacemaker-inducingly unaffordable, but who know how to dress like businesspeople who are doing that. Whatever, one of my favorite things of this whole smokeshow/shitshow was the dress that Solange wore, by Gilles Deacon, which was an adventurous, artistically interesting, possibly-uncomfortable round pleated experience of an unknown galaxy, and or the chart-topping rave that I've been searching for since approximately 1998. I want to live in that dress/rave!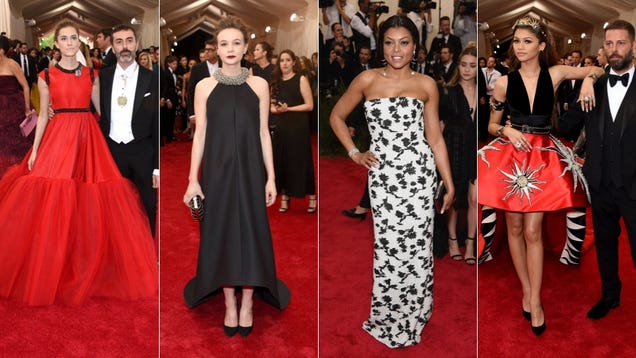 Allison Williams lives in the princess silhouette, no? This is prettier and more interesting than many of her red carpet jams, although the bodice and brooch transport her back to conservative-land, where she seems most comfortable. On the opposite crimson spectrum isZendaya, who is a young fashion G as ever—that skirt!—and could be a fashion oracle to all of us with those sun signs and the casual, cool arm on designer Fausto Puglisi. Then there isTaraji P. Henson—simple, elegant, cool, not too busy, a pair of earrings, she's not sweating this thing. Carey Mulligan appreciates understated in her own way, too, with a sparkly collar and a teeny-tiny train.